MEAT PUPPETS - "Too High To Die"
MEAT PUPPETS
"Too High To Die"
London Records - January 25, 1994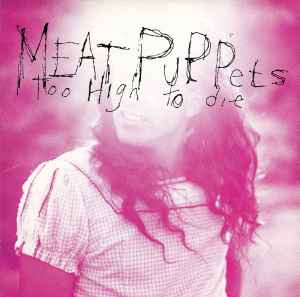 Few bands that were so decidedly non-grunge benefitted quite as much from identification with the genre as the Meat Puppets. After discovering the band when they were known primarily as a hardcore band and were supporting their SST label mates, Black Flag, Nirvana frontman, Kurt Cobain eventually invited the Arizona trio (brothers Curt Kirkwood on guitars and vocals and Cris Kirkwood on bass, rounded out by drummer, Derrick Bostrom) on tour with his band. Nirvana were supporting what turned out to be their final studio album, "In Utero," and Cobain asked the Kirkwood's to join the band, along with cellist, Lori Goldston and touring guitarist, Pat Smear, for the filming of an episode of MTV's "Unplugged" on November 18, 1993 at New York City's Sony Studios. Cobain covered three songs - "Plateau," "Oh Me," and "Lake of Fire" - from, "Meat Puppets II," and suddenly a band that was as likely to cover the Grateful Dead or Bill Monroe and the Bluegrass Boys as the Stooges was thrust into alterna-rock prominence. In fact, the Meat Puppets already counted such indie groundbreakers as Dinosaur, Jr. and Pavement as fans and when Red Hot Chili Peppers guitarist, John Frusciante, first left that band in 1992 he approached Curt Kirkwood about joining. The stars certainly seemed aligned for their second major release after leaving SST for London Records (with whom they reportedly first signed because the label has been the first to release music by Z.Z. Top) and with, "Too High To Die," the band delivered a classic, complete with a sales promotion cover sticker with Cobain's "I owe so much to them," quote. The scorching opening track, "Violet Eyes" is as close to Nirvana as this album gets but the fantastic songwriting of Curt Kirkwood successfully move from the riffy rock of "Backwater" and "Things" to the roots folk of "Roof With A Hole" and "Comin' Down." Later album versions included a remake of their own, "Lake Of Fire." The record eventually went Gold and "Backwater" received significant enough radio airplay to reach #47 on Billboard's Hot 100 's Hot 100 but the band's well-documented fondness for pharmaceuticals sadly derailed the momentum they had picked up. A tour featuring Stone Temple Pilots, Alice In Chains and the Meat Puppets degenerated to the point that the band's label pulled support for their latest, "No Joke," followed by a band hiatus that led to a breakup.  The Kirkwood's returned to the adjacent Tempe homes they had purchased following high school with an inheritance from their multi-millionaire grandfather, Carl Renstrom, the owner of Omaha's Tip Top Products. Things got dark. Cris Kirkwood's drug use escalated, eventually leading to the overdose deaths of both his wife and another acquaintance in separate incidents in his home. In 2003 Cris engaged in an argument over a parking spot at a downtown Phoenix post office and when a security guard intervened Cris began striking the man with his baton before being shot by the guard. His injuries were serious enough to require major surgery before he was sentenced to a 21-month prison sentence where with the help of former Steppenwolf drummer, Jerry Posin, who was also doing a stint, he got straight. Meanwhile, Curt released one album under the Meat Puppets moniker, "Golden Lies" which featured Shandon Sahm, the son of legendary Texas Musician, Doug Sahm, on drums and formed and recorded Eyes Adrift with Nirvana's Krist Novoselic and Sublime drummer, Bud Gaugh. The brothers reunited in 2006 with Curt telling Billboard, "He's clean for more than two years and he's all raring to go. Cris' resurrection is no less than miraculous – it's like a Lazarus-type thing. I was just like, 'If Cris is back, I know his frame of mind.' If he's upright and walking, it's hard to knock him down," In the midst of their collective madness, "Too High To Die" remains a fantastic effort, and neither "Meat Puppets II" or "Huevos" will disappoint either.
Standouts: "Backwater," "Things," Roof With A Hole".