"Bootleg: The Secret History of the Other Recording Industry," by Clinton Heylin
On a recent Saturday morning I woke and began my sputtering start to the day as I usually do, by making a cup of tea and dialing up some music.  On this occasion, it was the little known Planet Earth Rock N' Roll Orchestra or PERRO as they were known in hip circles.  This historically obscure outfit was initially gathered at Wally Heider's Studios to work out material in advance of what would be the first solo effort by Paul Kantner of Jefferson Airplane; "Blows Against The Empire/Jefferson Starship." 
The group included Grace Slick, David Freiberg, Graham Nash, Jerry Garcia, Jorma Kaukonen, Phil Lesh, Jack Casady, Bill Kreutzmann, Mickey Hart and David Crosby - who'd regather the musicians with the addition of Joni Mitchell, Neil Young, Greg Rolie and Mike Shrieve - to work on his own solo debut, "If I Could Only Remember My Name."
The sessions are as loose as you might imagine.  One track, simply titled "Garcia's Tune," finds the singer teaching the framework of what would become the Dead staple, "Loser," to the assembled.  As Slick once noted, "These sessions were like 'Uh, do you wanna play guitar on this one?' 'No, man, I have to go to the bathroom.' 'Okay, David, you wanna play?' 'Sure.' Whoever felt like doing something did it. Parts interchanged, people interchanged."
Why do I bring this up?  Why outline the 1970 gathering of these emerging San Francisco legends of the 1960's?  These sounds it would be easy to imagine you could only hear if you were fortunate enough to have been in that studio?
Because you can't buy this recording in a store.  You won't find it on Amazon.  It's not an iTunes suggestion.  You need to look for it.  And while modern technology has made that remarkably easier music aficionados have been searching for what was officially unreleased music since at least the 1960's, which is where Clinton Heylin comes in.
Heylin's "Bootleg: The Secret History of the Other Recording Industry" was, upon release in 1996, the absolute Holy Grail to this young searcher who had progressed from bootleg vinyl pressings of the likes of R.E.M., Squeeze and Van Halen found at indie record stores on Providence's Thayer Street and at occasional Holiday Inn "Record Conventions" to trading cassette tapes via U.S. mail to other devotees found in the back pages classifieds of magazines like Gold Mine and Relix.  
Heylin digs to the roots of this fascination/fixation.  He suggests that the very first bootlegged material dates back to the unofficial publishing of transcripts of Shakespearean plays and follows that to the first and arguably most important bootleg of the rock age: Bob Dylan's "Great White Wonder."  Released in 1969, the double album became an underground totem, its plain white sleeve holding previously unreleased songs from a myriad of sources and even spawning a sequel, "Great White Wonder 2," the following year.  
1969 also saw landmark bootleg releases by the Beatles ("Kum Back," sourced from a tape recording of an acetate of, "Let It Be," prepared by the band's engineer, Glyn Johns, which reached the "in the know" public prior to the official release of, "Let It Be") and the Rolling Stones  ("Live'r Than You'll Ever Be," an audience recording from the band's 1969 tour which Rolling Stone magazine hailed as, "The ultimate Rolling Stones album," and which resulted in the release of an official live album from the tour, "Get Yer Ya-Ya's Out" in 1970).
Heylin covers this burgeoning counterculture juggernaut with the passion of a fan (he is the co-founder of "Wanted Man," a British magazine dedicated to studying Dylan's life and work and is a respected expert on "The Bard of Hibbing") and the fixation and focus of an investigative journalist.  His anecdotes mingle with authenticated history, such as the tale of a gag perpetrated by some mischievous Rolling Stone magazine editors in response to the newly fledgling bootleg fervor.  
"The Masked Marauders," was hyped as a surreptitiously recorded jam session between Dylan, Mick Jagger, John Lennon, and Paul McCartney.  This non-existent bootleg was positively reviewed in the magazine and the interest was sufficient enough for a group of session players to be hired to record, "The Masked Marauders."  Released officially on a Warner Brothers subsidiary label, it went on to move over 100,000 units.  
By 1978, Bruce Springsteen, who had allowed several shows on that year's tour to be broadcast in influential markets, was obviously in on the joke when he introduced "Sandy" at the Winterland in San Francisco with a laughing remark that Jersey girls would hear it, "Through the magic of bootlegging."  He had previously started a Cleveland show on the same tour by giving bootleggers the warning to turn on their recorders.
Of course the Grateful Dead approach to recording live shows - Garcia's comment that, "The shows aren't the same ever, not even remotely, so when we're done with it, they can have it"- opened the door to an open policy first embraced by jam bands but now having matured to Pearl Jam offering live recordings of every show they perform.  Dylan's official ongoing "Bootleg Series" releases are a treasure trove for diehards and speak to an industry acceptance of the adage that bootlegs don't cut into official sales: fans devoted enough to purchase additional unsanctioned releases have most likely bought everything available on the legitimate market.
Prior to my Saturday morning with PERRO I'd folded laundry the night before listening to a solid audience recording of Courtney Barnett and Kurt Vile playing an in-store at Amoeba Music in Hollywood after rocking out to a soundboard tape of Big Audio Dynamite at the long-gone 1018 Club in New York City during 1986 while driving back from the supermarket.  Today it is as easy as finding a decent torrent site (and there are plenty) downloading an offering you're interested in (and subsequently "seeding" to others looking for this recording) and converting to your preferred format.  Live shows, FM broadcasts, in-studio performances, rehearsals, demos, outtakes, out of print and unreleased albums, it's all out there.
Heylin's book speaks to when there was a still a sense of adventure in procuring these hidden gems and indeed a community within those actively seeking what some record stores referred to as "rarities."  As much as I appreciate the wondrous possibilities today, I admittedly miss the fun of the hunt that was an inherent part of my introduction to "The Other Recording Industry."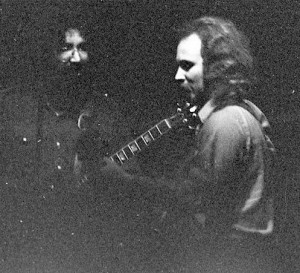 (Jerry Garcia and David Crosby at Wally Heider's Studio, San Francisco, CA, 1970.)