THE KIELTY KONSIDERATION - May 27, 2022
Only one thing truly needs discussion this week.  The death of children demands attention over everything else that might have caught my eye this week.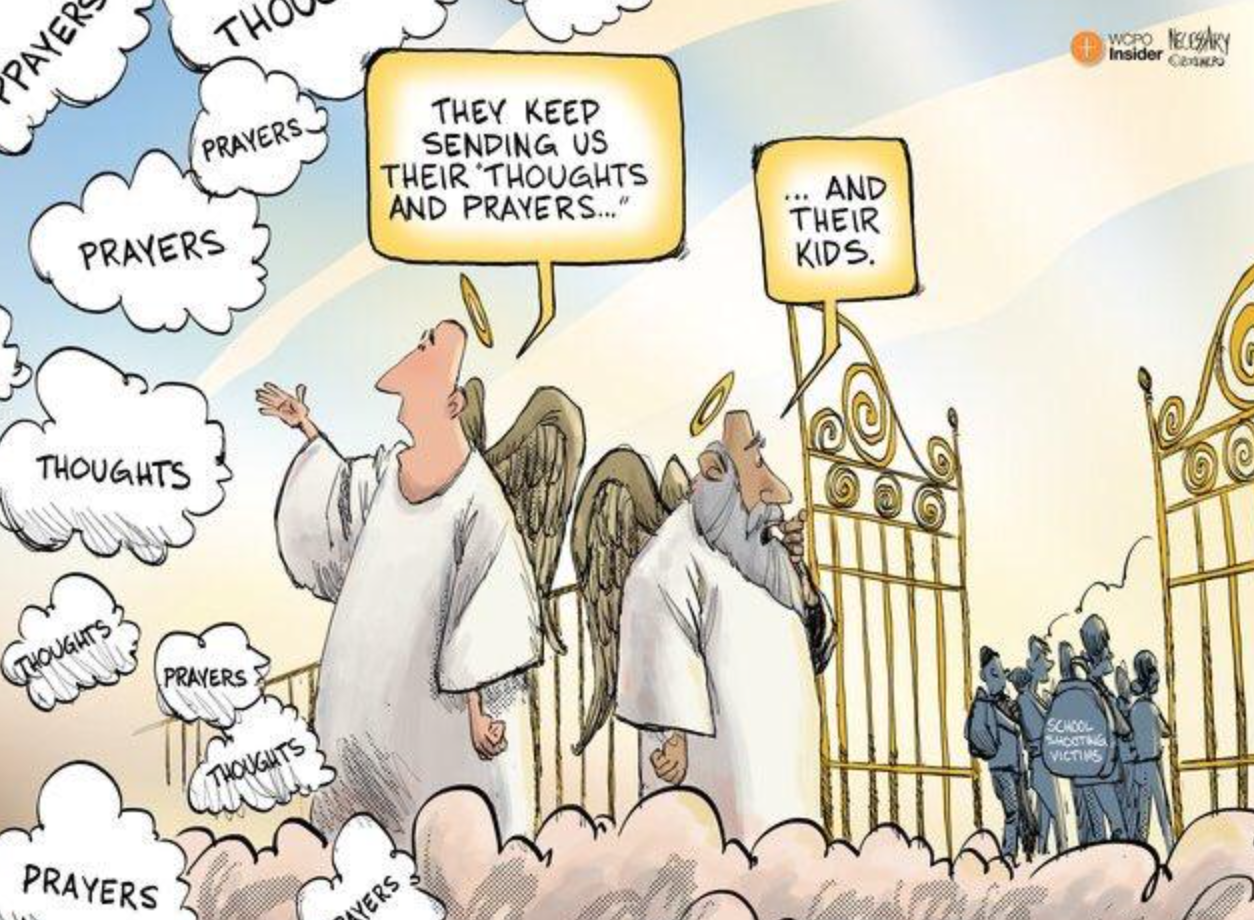 Well, there's no point in pussy-footing around it: gun control in this nation is a fucking joke. Another senseless tragedy that has me adding my voice (sadly, once again) to the resounding cry of "Fuck the NRA!" I am no longer capable of prefacing that sentiment with an apology for my view toward "responsible" members of this political bully pulpit. You can absolutely own a reasonable (and automatic weapons in civilian hands are a fucking country mile past the shot-up highway sign welcoming you to "Reasonable") gun. But supporting the NRA is equally far from the adjoining states of mind that "Reasonable" and "Responsible" occupy.
In actuality, gun owners who are responsible should be pissed about the image that the NRA has repeatedly given them. I know responsible owners are out there somewhere, I have lived with one. But if you're signing a check to the NRA you may as well put, "I am thoughtless, uncaring, and selfish," in the memo line. Your fellowship among careless easily-led primitives is validated the moment that check clears.
I have heard this line of crap: that the NRA offers camaraderie. Oh yeah? So does the Ku Klux Klan for the right kind of simpleton. Need camaraderie that desperately? You can join a local gun club. I grew up close enough to one that their rifle blasts would wake me on weekend mornings. They were annoying, particularly, when I was sleeping one off, but they didn't scare me. They were responsible and in a safe marked spot, getting their rocks off, I suppose. I do know I never felt threatened by them. This is not what the NRA does. If it was then NRA Gun Clubs would be as prevalent as YMCA's. As maybe as non-threatening.
I do feel threatened by the role that the NRA plays in American culture and society, though. The latest example of their assault rifle advocacy (call it what it is) makes any decent human being terribly sad but what makes me ultimately angry is that I am no longer shocked. The role that the NRA has played in current American culture has absolutely desensitized me. How could it not when American mass shootings are eminently more common than plane crashes. If nothing else, the NRA has succeeded in passing along their lack of inherent and immediate empathy in response to a loss of life.
I have said and written this before: the NRA began as a sportsman's group that's original intent was to advance rifle marksmanship. That's a far cry from the corrupt political lobbying group that currently holds elected United States Senators in its collective holster. Corrupt? These scumbags filed for bankruptcy in Texas last year after their leader, Executive VP, Wayne LaPierre, admitted in court to keeping the bankruptcy filing secret from the NRA's board of directors and most of its senior officials. Additionally, LaPierre's excessive compensation and exorbitant spending of NRA funds on himself and his wife, such as lavish clothing and vacations, chartered jet flights, and a traveling "glam squad" for his wife, became a subject of testimony. I can't do better explaining the opportunistic mindset of this weasel than Vanity Fair magazine did but it's fair to say the dough he spent on himself would have bought a lot of paper targets. If anything LaPierre seems much like the organization he represented: espousing a denim and pickup truck persona among members while in actuality emulating the "Limousine Liberal" ethos the group repeatedly blames for American decline.
Now, in a true, "timing is everything," moment, the NRA 2022 Annual Meeting begins today in Houston, a mere four hours away from their latest tragedy fund-raiser in Uvalde, TX. "Tragedy fund-raiser," you scoff? Following the 2012 shooting at Sandy Hook Elementary School in Newtown, CT, the NRA skyrocketed its fundraising and membership. Last year alone the NRA spent $16M ostensibly advocating for "gun rights" while gun control lobbying was in the neighborhood of $3M. You don't have to be a political scientist or economist to see who is buying more influence, and if you need further proof than that the deplorable Texas senator, Ted Cruz, a loathsome and easily bought political cockroach who has never passed a money buffet without stuffing his face and pockets, was the number one recipient of gun rights financial donations in the last tax cycle.
In an episode of "fortuitous tragedy," the purveyors of "Thoughts and Prayers" (and as a semi-practicing, semi lapsed Catholic I can assure you that if you pray and think for good appearing in one hand and shit into the other it's a sucker bet which will fill first) have a brand new rallying cry to point out why those bleeding hearts are so determined to steal away their assault weapons. This big a hot button so close to gun-nut ground zero trumps even Roe v. Wade, long an NRA platform point (and let's face facts, the fetus supersedes the value of birthed humans to the zealots on the Right, at least until said humans are fucked up enough to feel the need to own an assault weapon and see the reasoning in the 45th person to lead this land) pales in comparison.
Speaking of which, ole Donnie who is always good for a hearty ration of Grade A horseshit - of such low quality that even the flies glance around for fear of getting caught eating it by any fly with a fly-shaped helping of common sense - will be on hand to spoon feed it to these election-denying inbred millionaire clodhoppers. Admit it or not, Republicans live to deny and blame in these situations. Hell, Arizona Representative, Paul Gosar, a sweetheart of a Holocaust denier who is a favorite among the white nationalist crowd and was censured for posting an anime video in which he killed his fellow Representative, Alexandria Ocasio-Cortez, declared the shooter in a since-deleted tweet, "A transsexual leftist illegal alien named Salvatore Ramos." Gosar has yet to comment, apparently while waiting for his call to be returned by court-declared delusionist, Alex Jones, and likely not expecting the support of his own family who have previously called him, "shameful and destructive," in an Op-Ed piece that could be used as a reference for a role in the NRA should he choose to make a run at LaPierre's vacated post. Just don't ask your siblings for help, in his 2018 Congressional race they filmed a series of commercials supporting his opponent.
Also, a dollar for anyone who can justify why fey Republican Senator, Lindsey Graham of South Carolina, who seems as though he could be bent over by a right-wing-facing beam of light, admittedly owns an assault rifle. I have never imagined an AK-15 pairing particularly well with pastels.
The rub is that with Drumpf in attendance the Secret Service will be making certain that this year's NRA gig will be, unlike the average elementary school, gun-free. I suppose masturbating in your SUV with your firearms close at hand is a small price to pay to ensure disturbed Americans have the right to propagate senseless violence on innocent children without being checked out.
Should anyone in opposition to this opinion have the cojones to continue reading then please immediately scroll down below. You'll find an extensive list of the institutes of learning where your donations have had an impact:
Thurston High School.
Columbine High School.
Heritage High School.
Deming Middle School.
Fort Gibson Middle School.
Buell Elementary School.
Lake Worth Middle School.
University of Arkansas.
Junipero Serra High School.
Santana High School.
Bishop Neumann High School.
Pacific Lutheran University.
Granite Hills High School.
Lew Wallace High School.
Martin Luther King, Jr. High School.
Appalachian School of Law.
Washington High School.
Conception Abbey.
Benjamin Tasker Middle School.
University of Arizona.
Lincoln High School.
John McDonogh High School.
Red Lion Area Junior High School.
Case Western Reserve University.
Rocori High School.
Ballou High School.
Randallstown High School.
Bowen High School.
Red Lake Senior High School.
Harlan Community Academy High School.
Campbell County High School.
Milwee Middle School.
Roseburg High School.
Pine Middle School.
Essex Elementary School.
Duquesne University.
Platte Canyon High School.
Weston High School.
West Nickel Mines School.
Joplin Memorial Middle School.
Henry Foss High School.
Compton Centennial High School.
Virginia Tech.
Success Tech Academy.
Miami Carol City Senior High School.
Hamilton High School.
Louisiana Technical College.
Mitchell High School.
E.O. Green Junior High School.
Northern Illinois University.
Lakota Middle School.
Knoxville Central High School.
Willoughby South High School.
Henry Ford High School.
University of Central Arkansas.
Dillard High School.
Dunbar High School.
Hampton University.
Harvard College.
Larose-Cut Off Middle School.
International Studies Academy.
Skyline College.
Discovery Middle School.
University of Alabama.
DeKalb School.
Deer Creek Middle School.
Ohio State University.
Mumford High School.
University of Texas.
Kelly Elementary School.
Marinette High School.
Aurora Central High School.
Millard South High School.
Martinsville West Middle School.
Worthing High School.
Millard South High School.
Highlands Intermediate School.
Cape Fear High School.
Chardon High School.
Episcopal School of Jacksonville.
Oikos University.
Hamilton High School.
Perry Hall School.
Normal Community High School.
University of South Alabama.
Banner Academy South.
University of Southern California.
Sandy Hook Elementary School.
Apostolic Revival Center Christian School.
Taft Union High School.
Osborn High School.
Stevens Institute of Business and Arts.
Hazard Community and Technical College.
Chicago State University.
Lone Star College-North.
Cesar Chavez High School.
Price Middle School.
University of Central Florida.
New River Community College.
Grambling State University.
Massachusetts Institute of Technology.
Ossie Ware Mitchell Middle School.
Ronald E. McNair Discovery Academy.
North Panola High School.
Carver High School.
Agape Christian Academy.
Sparks Middle School.
North Carolina A&T State University.
Stephenson High School.
Brashear High School.
West Orange High School.
Arapahoe High School.
Edison High School.
Liberty Technology Magnet High School.
Hillhouse High School.
Berrendo Middle School.
Purdue University.
South Carolina State University.
Los Angeles Valley College.
Charles F. Brush High School.
University of Southern California.
Georgia Regents University.
Academy of Knowledge Preschool.
Benjamin Banneker High School.
D. H. Conley High School.
East English Village Preparatory Academy.
Paine College.
Georgia Gwinnett College.
John F. Kennedy High School.
Seattle Pacific University.
Reynolds High School.
Indiana State University.
Albemarle High School.
Fern Creek Traditional High School.
Langston Hughes High School.
Marysville Pilchuck High School.
Florida State University.
Miami Carol City High School.
Rogers State University.
Rosemary Anderson High School.
Wisconsin Lutheran High School.
Frederick High School.
Tenaya Middle School.
Bethune-Cookman University.
Pershing Elementary School.
Wayne Community College.
J.B. Martin Middle School.
Southwestern Classical Academy.
Savannah State University.
Harrisburg High School.
Umpqua Community College.
Northern Arizona University.
Texas Southern University.
Tennessee State University.
Winston-Salem State University.
Mojave High School.
Lawrence Central High School.
Franklin High School.
Muskegon Heights High School.
Independence High School.
Madison High School.
Antigo High School.
University of California-Los Angeles.
Jeremiah Burke High School.
Alpine High School.
Townville Elementary School.
Vigor High School.
Linden McKinley STEM Academy.
June Jordan High School for Equity.
Union Middle School.
Mueller Park Junior High School.
West Liberty-Salem High School.
University of Washington.
King City High School.
North Park Elementary School.
North Lake College.
Freeman High School.
Mattoon High School.
Rancho Tehama Elementary School.
Aztec High School.
Wake Forest University.
Italy High School.
NET Charter High School.
Marshall County High School.
Sal Castro Middle School.
Marjory Stoneman Douglas High School
Great Mills High School
Central Michigan University
Huffman High School
Frederick Douglass High School
Forest High School
Highland High School
Dixon High School
Santa Fe High School
Noblesville West Middle School
University of North Carolina Charlotte
STEM School Highlands Ranch
Edgewood High School
Palm Beach Central High School
Providence Career & Technical Academy
Fairley High School (school bus)
Canyon Springs High School
Dennis Intermediate School
Florida International University
Central Elementary School
Cascade Middle School
Davidson High School
Prairie View A & M University
Altascocita High School
Central Academy of Excellence
Cleveland High School
Robert E. Lee High School
Cheyenne South High School
Grambling State University
Blountsville Elementary School
Holmes County, Mississippi (school bus)
Prescott High School
College of the Mainland
Wynbrooke Elementary School
UNC Charlotte
Riverview Florida (school bus)
Second Chance High School
Carman-Ainsworth High School
Williwaw Elementary School
Monroe Clark Middle School
Central Catholic High School
Jeanette High School
Eastern Hills High School
DeAnza High School
Ridgway High School
Reginald F. Lewis High School
Saugus High School
Pleasantville High School
Waukesha South High School
Oshkosh High School
Catholic Academy of New Haven
Bellaire High School
North Crowley High School
McAuliffe Elementary School
South Oak Cliff High School
Texas A&M University-Commerce
Sonora High School
Western Illinois University
Oxford High School
Robb Elementary School